Agnov8 wins National Industry Innovation Award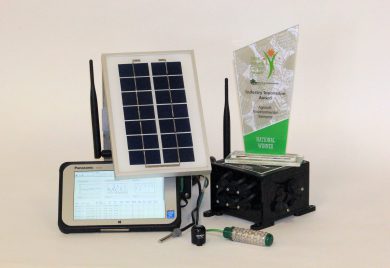 An agriculture and horticulture company based in Arcadia New South Wales, which has pioneered a phenomenal range of technologies providing key insights into environmental matters, has taken home the Industry Innovation title at the national industry awards held in Adelaide last night.
Australian owned Agnov8 provides new technologies and innovations to transform the way traditional services are delivered, and is manned by a team of experts with unparalleled insight into the complexities of the nursery industry.
The winning technologies include agGreenhouse to manage environmental conditions including soil temperature, humidity and leaf wetness, agWeather reporting on local weather patterns, agField monitoring soil conditions including moisture and solar radiation, and agWater sensors to determine water quality and quantity in dams and storage tanks.
Presented by the Nursery and Garden Industry Australia, the awards, now in their 22-nd year, recognise and honour excellence in business, products and services and acknowledge industry leaders as they strive to achieve best practice within the nursery and garden community.
CEO of the Nursery and Garden Industry, Peter Vaughan, said judges were delighted with the standard and quality of entries this year and applauds winners for displaying exceptional environmental leadership.
"Our aim is to continue to increase green space and the winners of the 2016 awards have created new benchmarks to achieve and surpass the goals that are set," he said. "We heartily congratulate Agnov8 for this outstanding achievement and we thank the team for its ongoing commitment to environmental sustainability, quality and service," Mr Vaughan said.
Australians can look forward to more trees, plants and turf thanks to a campaign supported by the Nursery and Garden Industry encouraging councils, developers and landscapers to help improve green life in urban areas by 20 percent before 2020. More than 9 million square metres of new green space has already been planted in cities across the country since the campaign began.
source: Nursery & Garden Industry – Australia